November 19, 2007
Matt Rosenberg
With the defeat by Puget Sound taxpayers of a multi-billion-dollar roads and transit ballot measure Nov. 6, momentum is growing for tolling and congestion pricing to help ease traffic congestion in the Seattle region, as this news and opinion round-up shows. In a Puget Sound Transportation Action Plan just unveiled, Cascadia Center also accents tolling and congestion pricing, along with centralized regional decision-making on transportation; more private investment in roads and transit; more bus rapid transit and commuter rail; an enhanced network of suburban park-and-ride lots; plus more government fleet purchases of - and fuel infrastructure development for - flexible-fuel plug-in hybrid electric vehicles.
Puget Sound hesitantly stands on the cusp of allocating more rationally its scarce road capacity. Tolling is a required condition for a federal grant of $138 million to help fund a $4.4 billion-plus replacement of the earthquake-and windstorm-prone State Route 520 Floating Bridge (a.k.a. the Evergreen Point Floating bridge).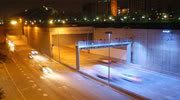 Tolling the 520 bridge intelligently will necessitate congestion pricing on that span plus enhanced transit options, and tolling the parallel I-90 to the south. The new tolled southbound lanes of the Tacoma Narrows Bridge are proving popular, and a four-year congestion pricing pilot project is coming on State Route 167.
The growing impetus for further tolling and congestion pricing in Puget Sound aligns with national trends.
A privately-financed 10-mile toll road which runs north-south at the eastern reaches of San Diego opens today, as the San Diego Union-Bulletin reports. The South Bay Expressway will be operated by a unit of Macquarie Infrastructure Group, which assumed responsibility for a $635 million private investment to fund the bulk of the construction (total costs were $843 million) and operate the road, an extension of State Route 125. Tolls will range from $2 to $3.75, and will be levied via overhead gantries (above, left) communicating electronicallly with windshield-installed FasTrak transponders (below, right); and also via toll booths.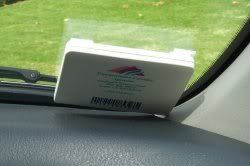 Some 30,000 to 40,000 cars are expected to use the tollroad daily, and tolls are intended to allow the company to recoup its investment and make a profit. Elected officials say the road would never have been built without private investment. Under the current agreement, MacQuarie will turn the road over to the state transportation department in 35 years, though that could be renegotiated. The South Bay Expressway is expected to provide congestion relief for heavily-used I-805, a parallel north-south road to the west. The deal was inked in 1991, but environmental and legal challanges delayed a planned 1995 opening until today. Regional officials would like to renegotiate a so-called "no compete" clause, which requires them to pay MacQuarie if they open competing toll or HOV lanes; four HOV lanes are being eyed for I-805.
This is not metro San Diego's first experience with tolling in recent years. The more dynamic form of tolling known as congestion pricing has been in place for almost 10 years on a major east-west Interstate in San Diego. CNN reports:
San Diego has been charging commuters a toll on an eight-mile stretch of I-15 since 1998, which lets those who pay use special lanes during peak hours. The charge varies from 50 cents to $8, depending on demand. Since the toll was imposed, usage of express lanes has nearly doubled, and the number of carpools has gone up more than 70%.
Back east, the New York Times reports (free reg. req.) the Port Authority of New York and New Jersey is proposing to eliminate peak-hour toll discounts for transponder users, so that they would pay $8 peak tolls versus the current $5 (and $6 off-peak) tolls to use the Lincoln and Holland tunnels, the George Washington Bridge, and other bridges on Staten Island. Vehicles which meet low-emissions standards would only pay $4 at peak. The toll hikes, combined with proposed PATH commuter fare hikes, would raise an estimated $300 million per year to help finance a second commuter rail tunnel under the Hudson River, to Penn Station. The port authority wouild spend $100 million to completely phase out tollbooths in five years, in favor of electronic transponders. Public hearings are planned on the entire proposal.
A Hudson Valley daily - the Times Herald-Record - reports that the New York State Thruway Authority is being strongly urged by regional officials to institute congestion pricing for cars on the Tappan Zee Bridge. Currently, there's a frequency discount discount for cars, although trucks pay a congestion-based toll. Congestion-pricing for cars would help raise needed repair funds, the paper reports.
The authority is being forced to adjust tolls again because volatile gas prices are slowing traffic growth, but it will need billions in new money regardless to fix the old bridge, the source of almost 20 percent of the revenue from the statewide system.

Puget Sound has tens of billions worth of projected road and transit project needs in coming decades, as our burgeoning population grows still more; an estimated 52 percent by 2040, according to the Puget Sound Regional Council's projections. Increases in the motor vehicle excise tax, sales and gas tax can help fund some of these needs. But taxpayers are making it increasingly clear these sources are not an infinitely deep well; and alone will far from provide the bulk of needed transportation funding. A study done by the University of Washington and Booz Allen Hamilton earlier this year for King County Executive Ron Sims projected that system-wide tolling in Puget Sound could raise $1.1 to $1.6 billion per year, and about $36 billion over 20 years.
That could fund a lot of new toll lanes, express buses, and commuter rail. IF Puget Sound and the state can muster the vision and accountability to make the investment.
UPDATE, 11/20/07: Austin Jenkins, veteran statehouse correspondent for public radio's Northwest News Network, writes today in the online daily news magazine Crosscut that following Prop. 1's defeat, key state legislators are dusting off an early '07 tolling bill and passage of some version is likely in the '08 "short session" starting in January. The current bill, Jenkins reports, gives the legislature sole authority to impose tolls unless it grants exceptions; would permit "variable," or peak/off-peak pricing; details guidelines for the state transportation commission to follow in setting toll rates; and mandates that all tolls be used for the facilities or corridors from which they were collected. Unresolved now is whether tolls could finance transit. Tolling of SR 520 will likely be coupled with tolling of I-90, Jenkins reports.
RELATED:
"Gas Tax Revenue Drop Will Hasten Tolling," Bruce Agnew, Cascadia Prospectus, 10/4/07.
"Tolling Goes Mainstream," Ken Orski, Cascadia Prospectus, 10/3/07.
"$6 Billion Columbia Crossing Bridge Project Will Require Tolling," Matt Rosenberg, Cascadia Prospectus, 9/17/07.
"New Grant For Bridge Rebuild Prods Regional Tolling Debate," Bruce Agnew, Cascadia Prospectus, 8/15/07.
"Viaduct Bypass, I-5 Expansion Should Be Linked," Bruce Agnew, Puget Sound Business Journal, 8/10/07.
"State Treasurer Urges More Tolling For SR 520 Bridge Rebuild Tab," Matt Rosenberg. Cascadia Prospectus, 4/9/07.
TECHNORATI TAGS: >SEATTLE, PUGET SOUND, TOLLING, CONGESTION PRICING, STATE ROUTE 520, SAN DIEGO, SOUTH BAY EXPRESSWAY, I-15, NEW YORK>